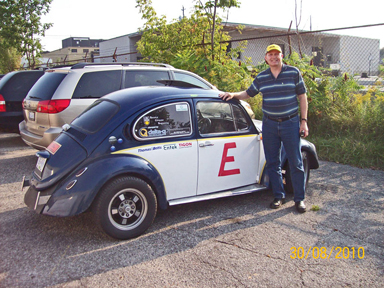 The Now Famous University of British Columbia Electric Car Club's Electric 1972 Beetle passed through Toronto, on the way to a first ever Licenced Vehicle Crossing of Canada in an All Electrically Propelled Vehicle, arriving in Toronto on Monday, August 30th, 2010, at 2:30 PM! See Their Story at their blog:
www.ubcecc.com/blog
I took some time - and switched shifts on my job so I could connect with them Tuesday Morning, August 31st! (Looks like my Camera Date needs correcting!)
We Met, I took some photos of the Car, Did an Interview - Video Style, with Ricky, and fellow EV Enthusiasts and PHEV drivers showed up and we then went off to get some Breakfast together. While there, one of the local EVer's contacted CBC and shortly thereafter - their news camera operator caught up to us and we watched as the E-Beetle and Ricky Gu made there story more widely known!
For a Larger Copy of the Above Picture -
Click Here!